Story Progress
Back to home
Idli Burger Recipe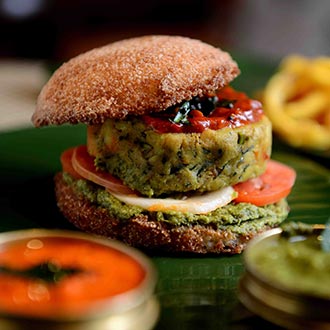 It's not just another burger, it's one with a South Indian twist. The crusted patty is made from fried pieces of rice idli and smeared with a tangy chutney.

Ingredients of Idli Burger
6 idlis
4 tsp mint and coriander chutney
3 thinly sliced tomato
3 thinly sliced onion
1 cup oil
For cutlets:
2 cups of diced vegetables (peas, carrot and potatoes)
1 tsp maida
A pinch of turmeric
1/2 tsp red chilli powder
1/2 tsp coriander powder
1/2 tsp garam masala
1/2 tsp ginger-garlic paste
1 Tbsp fresh coriander leaves chopped
Salt to taste
Oil for shallow fry
1.
Heat oil and fry idlis till golden brown. Make sure they're crisp on the outside and soft on the inside.
2.
Apply chutney on each side of the idli.
3.
Boil diced vegetables till well done. Drain water and allow them to cool.
4.
Saute onion, add ginger-garlic paste, turmeric, chilli powder, coriander powder and garam masala. Saute for a couple of minutes and then let it cool.
5.
Mash the vegetables and onion mixture. Add maida, coriander leaves and salt to taste, mix well.
6.
Make cutlets that are about the same size as the idlis. Shallow fry cutlets till golden brown.
7.
How to assemble burger - Place the cutlet in the middle, and then add onion and tomato slices sandwiching the cutlet.