Story Progress
Back to home
Jhalmuri Recipe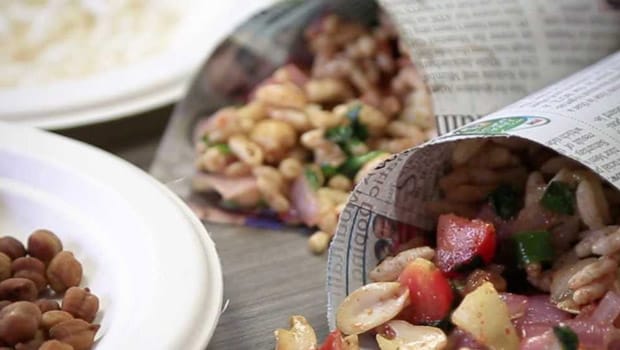 How to make Jhalmuri
NDTV Food
About Jhalmuri Recipe: A popular street food from Kolkata, Jhalmuri is a mix of spices and puffed rice. This puffed rice is tossed with onion, cucumber, tomatoes, peanuts and green chillies. A special blend of spices including chaat masala and mustard oil are also added to jhaal muri. This is a simple yet delicious snack.

Ingredients of Jhalmuri
1/2 Cucumber
1 tbsp coriander
1/2 Tomato
1 Green Chilli
1/2 Onion
2 tsp peanut, roasted
3 tsp chana, boiled
1 cup puffed rice
1/2 tsp chilli powder
1/2 tsp cumin powder
1/2 tsp chaat Masala
1/2 tsp black salt
1 tsp mustard oil
1/2 for garnishing lemon
1.
Chop all the veggies together including cucumber, coriander, tomato, green chilli and onion. 2.
Put it all together in a bowl. 3.
Add roasted peanut and boiled chana along with puffed rice to the bowl. 4.
Now cover the bowl and toss all the ingredients well. 5.
After the veggies have completely mixed with the rice, add spices including chilli powder, cumin powder, chaat masala, black salt and mustard oil. 6.
Cover the bowl and toss again. 7.
Garnish with a pinch of lemon and serve rolled in a newspaper cone. Watch the step by step recipe of Jhalmuri here: