Story Progress
Back to home
Kaeng Kheow Waan Kai or Green Chicken Curry Recipe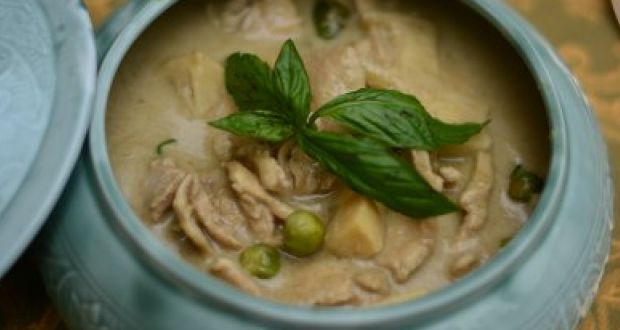 This light and bright curry made with coconut milk and chicken goes perfectly with rice and lingers of gorgeous basil and lime leaves that leave you with just the perfect aftertaste.

Ingredients of Kaeng Kheow Waan Kai or Green Chicken Curry
230 grams boneless chicken pieces
1/3 rd cup green curry paste
3/4th cup coconut milk
1/8th cup krob aubergines
1/8th cup pea aubergines
4 lime leaves
1 tsp palm sugar or any sugar
1 ½ teaspoon fish sauce
8 basil leaves
1 tsp oil
1/3rd cup white pumpkin (petha)
1/4th cup bamboo shoots
1.
Wash and cut both the aubergines into four equal pieces.
2.
Pour oil and 2 tablespoons of the coconut milk in the pot.
3.
Add curry paste and stir on a slow fire for a while. Add the chicken slices and when they're almost cooked, pour in the rest of the coconut milk.
4.
Add palm sugar, fish sauce, kaffir leaves, bamboo shoots, petha and both the aubergines. Simmer till the chicken is cooked.
5.
Garnish with basil and serve with steamed rice.