Story Progress
Back to home
Kashmiri Rajma Recipe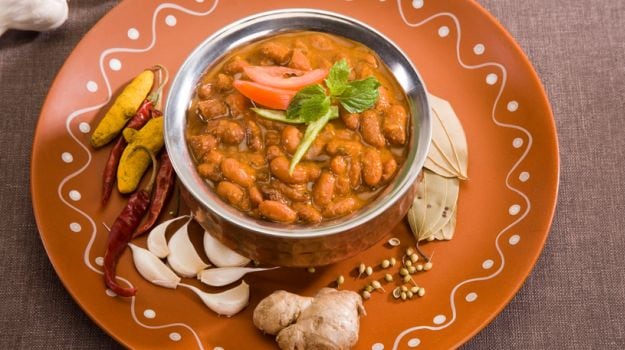 How to make Kashmiri Rajma
Rajma is a popular Indian curry made with kidney beans. This recipe is made with aroma of Kashmiri garam masala and a host of other spices.

Ingredients of Kashmiri Rajma
1 1/2 cups rajmah (kidney beans)
1 tsp soda bicarb
1/2 cup ghee (clarified butter)
1/8 tsp heeng (asafoetida)
1 tsp zeera (cumin seeds)
1 tsp sonth (dried ginger powder)
1/2 cup dahi (yogurt)
1 tsp Kashmiri garam masala
1 tsp ginger paste
2 tsp salt to taste
1 tsp chilli powder or to taste green chillies-chopped
2 tsp dhania (coriander) powder
Chopped coriander leaves for garnish
1.
Soak rajmah and soda in water overnight.
2.
Drain and cook in fresh water till soft (about 15 minutes in a pressure cooker, after it makes a sound).
3.
Drain and keep rajmah and water separately till ready to use. Heat ghee and add heeng and jeera.
4.
When jeera splutters, add sonth, dahi and ginger, stirring vigorously all the time (else the dahi will curdle).
5.
Saute till fat separates. Add salt, chilli powder, green chilli and rajmah. Saute for a minute or so.
6.
Make up the drained water of the cooked rajmah to about 1 cup and add to the rajmah.
7.
Simmer 8-10 minutes, add the garam masala, and dhania, simmer another minute or so and serve hot garnished with the coriander leaves.