Story Progress
Back to home
Kiwi Upside Down Cake Recipe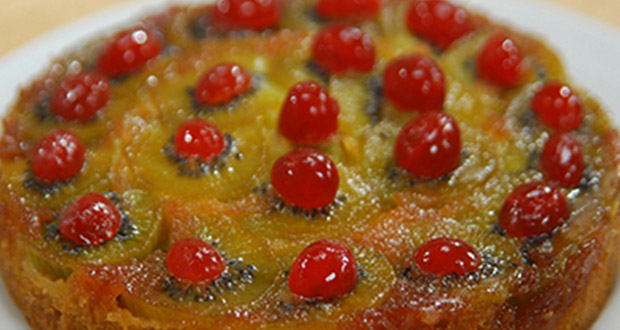 How to make Kiwi Upside Down Cake
About Kiwi Upside Down Cake Recipe: Kiwi cake, never heard before? Try this unusual upside down cake with fresh kiwis and cherries.

Ingredients of Kiwi Upside Down Cake
3 kiwis, peeled
1 tbsp oil
1/2 cup brown sugar
3/4 refined flour
1 tsp baking powder
1/2 cup butter
1/2 cup powdered sugar
2 Eggs
1 tsp vanilla essence
Glazed cherries, as required
2.
Grease a spring bottom aluminium cake tin with oil. Spread brown sugar all over the base of the tin.
3.
Slice 2 kiwis into thin roundels and arrange them over the brown sugar so as to cover the entire base.
4.
Sieve refined flour and baking powder into a bowl.
5.
Cut 1 kiwi into small pieces and mix in with the refined flour mixture.
6.
Place butter in a large mixing bowl, add sugar and beat with a hand blender till the mixture becomes creamy and fluffy.
7.
Add eggs and vanilla essence and beat again till well blended and light. Add the flour with the kiwi pieces and fold in well.
8.
Put the batter over the kiwis in the cake tin, tap the tin lightly and then level the batter with a spatula.
9.
Keep the tin in the preheated oven and bake for 35 minutes.
10.
Take the tin out of the oven and turn over on a serving plate. Decorate with cherries and chill in the refrigerator. Cut into wedges and serve.