Story Progress
Back to home
Plum Upside Down Cake Recipe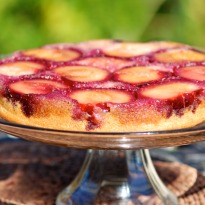 A lovely looking cake with the subtle sweetness of plums.

Ingredients of Plum Upside Down Cake
10-12 plums, cut in half and pitted
1 cup granulated sugar
1/3 cup water
6 Tbsp unsalted butter, at room temperature, plus extra for greasing the dish
3/4 cups granulated sugar, divided
2 eggs
1/3 cup sour cream (you can substitute it with yogurt)
1/2 tsp grated lemon zest
1/2 tsp pure vanilla extract (or vanilla essence)
1 cup all-purpose flour plus 2 Tbsp
1/2 tsp baking powder
1/4 tsp salt
Icing Sugar
1.
Preheat the oven to about 180 degrees Celsius.
2.
Generously butter a 9-inch tin and arrange the plums with the sliced side down.
3.
Combine 1 cup of the granulated sugar and 1/3 cup water in a small saucepan and cook over high heat until it turns warm amber in color. Swirl the pan but don't stir. Pour evenly over the plums.
4.
Then, cream 6 tablespoons of butter and the remaining 3/4 cup of granulated sugar in the bowl of an electric mixer fitted with the paddle attachment, until light and fluffy. Lower the speed and beat in the eggs one at a time. Add the sour cream, zest, and vanilla and mix until combined.
5.
Sift together the flour, baking powder, and salt in another bowl.
6.
With the mixer on low speed, add the dry mix to the butter mixture. Mix only until combined.
7.
Pour the cake batter evenly over the plums and bake for 30 to 40 minutes, until a cake tester or knife comes out clean. Cool for 15 minutes, then invert the cake onto a flat plate.
8.
Serve warm or at room temperature, dusted with icing sugar.