Story Progress
Back to home
Korri Gassi Recipe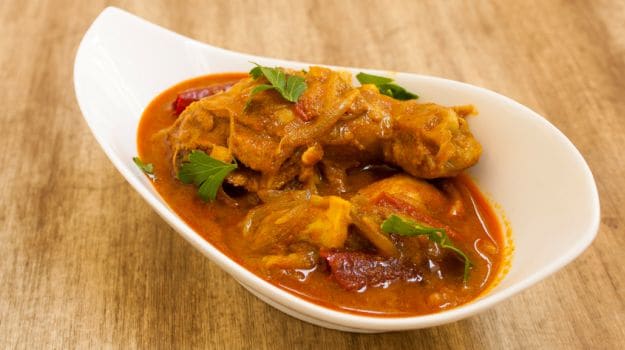 How to make Korri Gassi
A delicious chicken curry with the flavors of coconut, coconut milk and tamarind.

Ingredients of Korri Gassi
For the masala:
1 tsp coconut oil
3 tsp coriander powder
1 pinch of fenugreek seeds
1/2 tsp fennel seeds
8 pieces of pepper corn
1 tsp mustard seeds
2 tsp cumin seeds
15 red chillies
1 grated coconut
2 sliced onions
8 pieces of garlic
100 ml water
For the main preparation:
2 Tbsp coconut oil
2 sliced onions
10 curry leaves
2 chopped tomatoes
800 gm curry-cut chicken prepared masala
1 tsp salt
2 Tbsp tamarind paste
100 ml coconut milk
For the masala:
1.
Heat oil in pan. Add coriander powder, fenugreek seeds, fennel seeds, pepper corn, mustard seeds, cumin seeds and red chillies and dry roast them.
2.
Now add grated coconut, onions and garlic. Saute till the onion turn light brown.
3.
Then add water and grind them together. The masala is ready.
For the main preparation:
1.
Heat oil in pan. Add sliced onions, curry leaves and saute the onions till it looses colour.
2.
Then add chopped tomatoes, curry cut chicken, prepared masala, salt, tamarind paste and coconut milk. Mix it well.
3.
Cover the pan and cook for about 10 minutes.
4.
Korri Gassi is ready to eat.
5.
Garnish with curry and coriander leaves and serve hot with traditional Mangalore rice/ roti.