Story Progress
Back to home
Kushari Recipe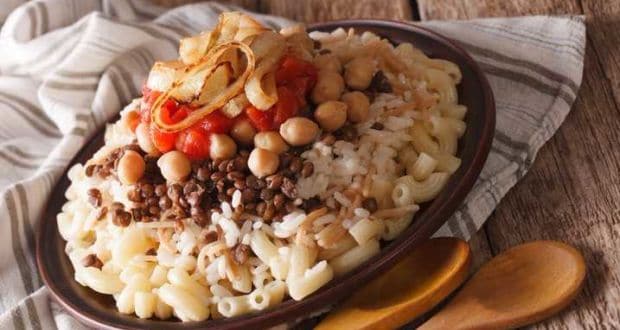 How to make Kushari
About Kushari Recipe: A very famous Egyptian dish, Kushari is a traditional dish that dates back to the 1800s where at the end of each month, families would have a little of Kushari and a leave a little of it in their pantries to be later thrown in to a hearty meal together. In the recent years it has become a widely popular street food. Rice, chickpeas, macaroni and lentils cooked with freshly made tomato sauce makes for a delicious dish of Kushari.

Ingredients of Kushari
1 Medium onion
1 large garlic clove
1 Green chilli
1 tsp coriander powder
1 tsp jeera/cumin powder, roasted
2 medium tomatoes
2 1/2 tbsp tomato puree
1 1/2 tbsp malt vinegar
1 tsp brown sugar
2 tbsp olive oil
to taste salt and pepper
1 tbsp coriander leaves, chopped
50 gram chickpea (cooked )
50 gram macaroni, boiled
1 cup rice, boiled
2 tbsp lentils (cooked, masoor dal)
For garnishing:
Handful of onions
mint leaves
1.
Cut the onion and tomatoes into chunks and put it into the blender along with garlic, jeera powder, coriander powder, tomato puree, malt vinegar, green chilli and brown sugar.
2.
Blend all the ingredients together.
3.
Heat a pan with olive oil, and the pureed mix into the pan.
5.
Cook until it reduces to a salsa like consistency, season with salt and black pepper and fresh coriander.
6.
Keep 1 tablespoon of the sauce on the side to garnish it later.
7.
Add the rice, chickpeas, macaroni and masoor dal to the sauce with a dash of olive oil. Mix it well till everything is coated nicely.
8.
Garnish with fried onions and 1 tablespoon sauce and serve.