Story Progress
Back to home
Linzer Cookies Recipe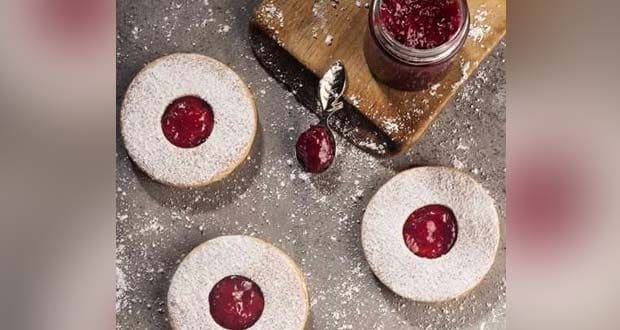 How to make Linzer Cookies
You just cannot resist a tray of these, buttery, confectioners' sugar-dusted, jam-packed cookies on your festival table. Make this Christmas merrier with these delicious and easy Linzer cookies.

Ingredients of Linzer Cookies
335 Gram Softened butter
235 gram Breakfast sugar
112 gram Cashew nut powder
56 gram Almond powder
2 Whole eggs
40 gram Flour
7 gram Cinnamon powder
7 gram Baking powder
A pinch of Salt
1 jar Raspberry jam
To dust Icing sugar
1.
Whisk together flour, baking power, salt, cinnamon, almond powder and cashew nut powder in a medium bowl. Set aside.
2.
Beat the butter and sugar with a mixer until light and fluffy for about 2 to 3 minutes. Beat in the eggs one at time.
3.
Gradually add the dry ingredients and mix until just combined.
4.
Shape the dough into a disk, wrap securely in plastic wrap and refrigerate overnight.
5.
When ready to bake just allow the disks to warm up on the counter until they are still firm but not soft.
6.
Preheat oven to 180°C and line 2 baking sheets with parchment.
7.
On a lightly floured surface, roll out each piece of dough to 4 mm thickness. Cut out using 3 inch cookie cutter and place on prepared baking sheet, spacing them 1 inch apart. Using a 1 inch cookie cutter cut out the centers of half of the rounds, re-rolling the scraps and refrigerate.
8.
Bake the bottoms and the tops (the ones with the holes) on separate cookie sheets.
9.
Bake, one sheet at a time, rotating the cookie sheet half way through, until the edges begin to brown, 8-10 minutes.
10.
Cool slightly on the cookie sheet and then transfer to a wire rack to cool completely.
11.
When the tops have partially cool, dust them generously with powdered sugar.
12.
Spread about ¾ teaspoon of preserves on each cookie without holes. Place a powdered top on each bottom and press gently to stick them together.