Story Progress
Back to home
Machchli Masala Recipe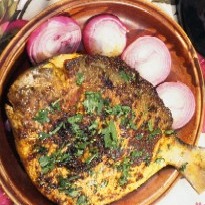 Fish fried whole with a combination of spices. The skin is good when it becomes crisp on frying. A high protein meal.

Ingredients of Machchli Masala
1 kg fish like a pomfret, or part of a larger fish, in one piece, scaled and cleaned but skin kept intact
1 tsp salt and 2 tsp lemon juice
Grind to a paste:
1 Tbsp carom seeds, roasted
1 Tbsp chopped ginger
1 Tbsp chopped garlic
1/2 tsp turmeric
1 tsp chilli powder
2 tsp salt
2-3 green chillies
1/4 cup (60 gm) mustard oil
Lemon juice and chaat masala for garnish
1.
Make slits along the length of the fish, on one side, going deep into the fish, along the bone, but not cutting through the opposite side-- thus creating a pocket. Repeat on the other side of the bone, and you will have two such pockets on either side of the bone of the fish.
2.
Apply the salt and the lemon juice to the fish inside out, leave for about 15 minutes and wash off. Drain and wipe dry.
3.
Apply the ground paste all over the fish, inside too. Heat the oil to high, and add the fish to it, browning over high heat, first on one side then the other.
4.
Lower the heat, cover and cook till cooked through (10-15 minutes, depending on the thickness of the fish.)
5.
Transfer on to a serving dish, garnish with the lemon juice and chaat masala and serve.