Story Progress
Back to home
Malai Gujiya Recipe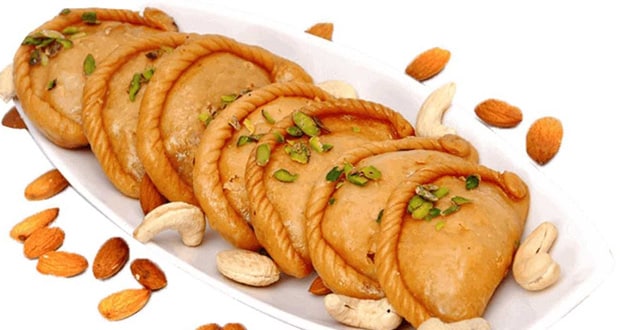 How To Make Malai Gujiya
We all have tried the classic gujiya recipe. Now is the time to try something unique. So, here we bring you Malai Gujiya recipe to make holi special and indulging to the core.

Ingredients of Malai Gujiya
2 Cups Malai from full fat milk
2 cups Maida
200 gram Powdered sugar
1/2 tsp Cardamom powder
1/2 cup Nuts of your choice
1/2 cup Desiccated Coconut
1.
Cook malai on stove along with sugar and desiccated coconut, till it is completely dry. Keep it aside.
2.
Roast dry fruits in ghee and mix with dry malai.
3.
Lightly knead flour with ghee. Then knead it properly with water. Put a final coating of ghee on the kneaded dough. Let it rest for some time.
4.
Roll the dough and cut into equal parts. Roll each part into a small roti. Smear maida slurry on all the sides of the roti.
5.
Place malai mixture in the centre, and secure the ends to give it the shape of gujiya. Poke a couple of holes in the gujiya with a pin.