Story Progress
Back to home
Maple, Walnut and Butter Tart Recipe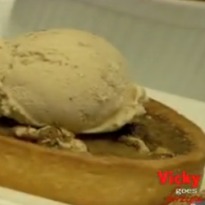 How to make Maple, Walnut and Butter Tart
Very close to the chef's heart, the recipe of this dish was created by Chef Peter Goerge's mother. A warm and delicate tart with walnuts, raspberries and a butter-maple sauce.

Ingredients of Maple, Walnut and Butter Tart
For the Tart:
1 egg
5 cups of flour
455 gm of tender flake lard / vanaspati, chilled
2 Tbsp white vinegar
1/2 a cup ice water
1 1/2 tsp salt
For the Filling:
1 egg
2 tsp of raspberry / strawberry jam
1-2 tsp of lightly toasted coconut (shredded)
2-3 tsp maple syrup
1 Tbsp corn syrup
1 cup brown sugar
5-6 golden raisins
5-6 walnuts
1 1/2 Tbsp butter
A pinch of salt
Vanilla to taste
For Plating:
1 tsp custard
1 tsp maple syrup
3-4 maple glazed walnuts
3-4 raspberries or strawberries
A scoop of walnut & maple ice cream
A pinch of icing sugar
1.
In a cup, beat one egg and keep separately.
2.
In another cup, mix ice water and white vinegar up to the brim and keep aside.
3.
Then, in a bowl, sift the flour and salt together and keep aside. Now, cut the lard / vanaspati into little pieces.
4.
In a pastry blender, add half of the lard / vanaspati to flour mixture and blend until it becomes crumbly.
5.
Now in another bowl, add the egg, water and vinegar mixture in small amounts at a time and mix with a fork until balls form.
6.
Knead the dough lightly on a board and chill it in the refrigerator for an hour.
7.
In another bowl, beat the egg, butter, maple syrup, for 1-2 minutes in a bowl but leave the little chunks of butter in it.
8.
Then add 1/3 cup of raisins (plumped in hot water) and 1/3 cup mixed shredded coconut and walnut pieces.
9.
Now, roll out the dough and line twelve large well-greased muffin tins and fill each tart shell 2/3 full with butter tart mixture and bake in a pre-heated 400-degree oven for 8 - 10 minutes.
10.
If the tarts start to boil over turn the heat down to 350 degrees.
11.
Now for the filling, whisk an egg, butter, and maple syrup together in a pan.
12.
In the same pan, add brown sugar, salt, corn syrup and vanilla and whisk it again for 30 - 60 seconds.
13.
Now fill the baked tart shells with raspberry jam, shredded coconut, golden raisins and some roasted walnuts.
14.
Now power-bake them in an oven for 10 minutes at 350 degree Celsius.
16.
On a plate, spread a spoon of custard and maple syrup on one side. Now place the hot tart in the center garnish with maple glazed walnuts and raspberries. Place a scoop of maple walnut ice cream in the center of the tart and finally dust a little icing sugar on it.