Story Progress
Back to home
Marble Cake Recipe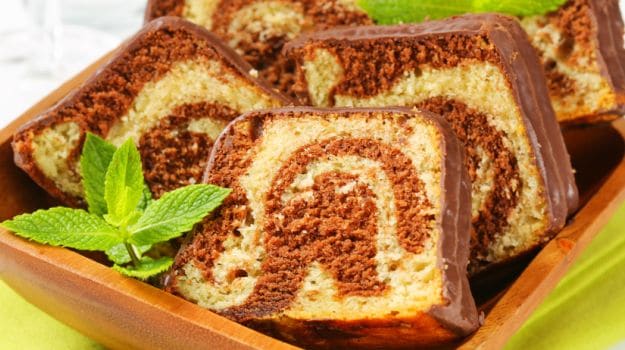 How to make Marble Cake
About Marble Cake: An exclusive treat for the eyes and taste buds, here's the recipe of a marble cake. Fused flavors of vanilla, cocoa and chocolate make this cake an absolute delight.

Ingredients of Marble Cake
150 gm butter
150 gm castor sugar
3 eggs
150 gm flour
1/2 tsp vanilla essence
1 Tbsp cocoa
1 1/2 tsp baking powder
For the Icing:
50 gm butter
100 gm icing sugar
50 gm melted chocolate
2 tsp cocoa
Sweets to decorate
1.
Beat butter and sugar together until light and fluffy.
2.
Gradually beat in eggs. Fold in all the flour except 1 Tbsp.
4.
Fold 1 tbsp flour in 1 half and the cocoa in the other. Place in alternate spoonfuls in a greased and lined 8" cake tin.
5.
Bake at 180 degrees centigrade for 20-25 minutes. Turn out and cool.
For the Icing:
1.
Beat the ingredients together. Spread over cake.