Story Progress
Back to home
Meat Lasagne Recipe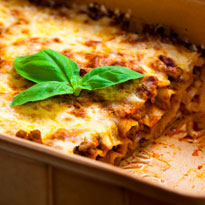 How to make Meat Lasagne
Layer after layer of cheesy explosion and gorgeous meat, this comes quite close to heaven.
Total Cook Time

1 hr 15 mins

Ingredients of Meat Lasagne
Oven Temp: 350F-180 C
500 gram Keema (cooked)
2 cups Tomato Puree
1/2 tsp Garlic Paste
to taste Salt and Sugar
1 tsp Garlic Paste
1 tsp Oregano and Basil
2 tbsp Olive Oil
60 gram Butter
30 gram Refined Flour
3 cups Milk
Lasagne sheets
125 gram Mozzarella + c=Cheddar Cheese, grated
An oven-proof serving dish, greased
1.
Heat olive oil and saute garlic till slightly colored.
2.
Add the tomato puree, salt, sugar, chilli powder, oregano, basil and simmer for a couple of minutes.
3.
Heat butter and lightly brown flour in it.
4.
Add milk, bring to a boil and simmer.
To make the Lasagne:
1.
Mix together the meat, 1 1/2 cup of tomato sauce, and 2 cups of white sauce.
2.
Spread a little tomato puree over the base of the dish.
3.
Line the dish with a layer of the lasagne strips and spread a thin layer of meat mixture over it, then sprinkle some of the grated cheese.
4.
Repeat these layers, till you have at least 5 such layers.
5.
Cover the last layer with the white sauce and then dribble some tomato sauce over.
6.
Sprinkle some cheese and bake in a pre-heated oven for 25-30 minutes.