Story Progress
Back to home
Microwave Machchli Biryani Recipe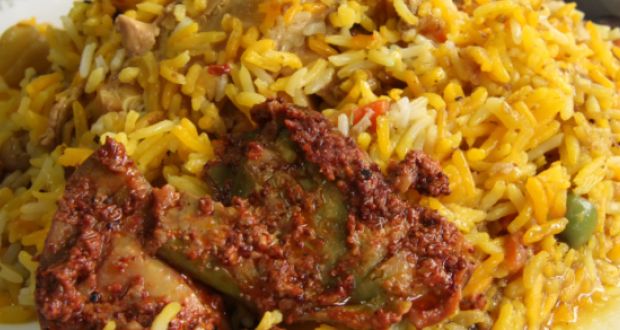 Simmered pieces of spicy fish layered with rice. This fish biryani will certainly crown your dinner party the best one!
Total Cook Time

55 mins 20 seconds

Prep Time

10 mins 20 seconds

Ingredients of Microwave Machchli Biryani
1/2 kg fish fillets, cut into 1 1/2" cubes
2 tsp oil
1 cup grated onions
1 tsp ginger paste
1 tsp garlic paste
1 tsp cumin seeds
1/2 tsp garam masala
1 Tbsp coriander powder
1/2 tsp chilli powder
1/2 tsp turmeric powder
1-1/2 tsp salt
1/4 cup hung yoghurt
1/4 cup chopped coriander leaves
Green chillies, chopped fine
1/2 tsp biryani masala
1/3 cup browned onions
For the rice:
2 cup rice, cleaned and washed
2 tsp oil
4 cloves
4 peppercorns
1/4 cinnamon
4 green cardamoms
1/2 tsp salt
3 cups hot water
1/2 cup warm milk, saffron or color mixed
2.
Put in the onions, cumin and ginger-garlic pastes.
3.
Cook uncovered at high heat for 4 minutes.
4.
Then add garam masala, coriander powder, chilli powder, turmeric powder, salt and yoghurt.
5.
Cook the above preparation covered at 70% for 8-10 minutes, stir once.
6.
Mix in the fish and cook uncovered at high heat for 4 minutes.
7.
Stand for 1 minute following in the browned onions, coriander, green chillies and biryani masala.
Rice preparation:
1.
Make a mixture of oil, cloves, peppercorns, cinnamon and cardamoms.
2.
Cook covered at high heat for 2 minutes then add rice, water and salt.
3.
Mix well and cook at high heat for 8 minutes and then at 70% for 8 minutes.
Serving suggestions:
1.
Put the fish layer at the bottom of the dish and cover with the rice.
2.
Sprinkle it with the rice milk mixture.
3.
Give it a final cook at 70% for 5 minutes.