Story Progress
Back to home
Mok Pla Recipe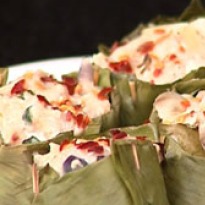 Cod fish, coconut cream and chillies wrapped and steamed in banana leaves. Served with rice.

Ingredients of Mok Pla
6 shallots small
6 garlic cloves
2 dried red chllies
175 gm cod
1 egg
3 Tbsp coconut cream
1 Tbsp fish sauce
20 basil leaves
1 banana leaf
Tooth picks
1.
Preheat a hot grill. Place the shallots and garlic between two sheets of kitchen foil.
2.
Fold over the edge to seal and place this envelope under the hot grill.
3.
Cook turning once, until the contents feel soft.
4.
Unwrap the parcel and put the softened vegetables into a mortar together with the chilies. Pound to a paste.
5.
Turn a paste into a mixing bowl, add the cod and break it up as you mix it with the paste.
6.
Break the egg into the bowl, add the coconut cream and fish sauce and stir well. Add the basil leaves, stir once and set aside.
7.
You now need to make banana leaf envelopes' in which the mixture will be steamed.
8.
This container will be pyramid shaped and you will need two for this amount of filling.
9.
For each pyramid, cut out a rectangle of banana leaf, Round off the narrow ends to make a long oval shape.
10.
Place half the mixture at the center of each, carefully easing up the long sides so that any liquid is held in and encoring that these are slightly tucked in as you lift up.
11.
Bring together the rounded ends, squeezing them to a point which you fasten with a toothpick and which give you your pyramids.
12.
Go easy with the banana leaf which is fairly fragile and can simply crumble if forced too hard.
13.
Place both pyramids in the upper compartment of a steamer and cook for 15 minutes.
14.
Each dinner should have a pyramids which is opened at the table to release the pungent aroma of the steamed curry, which is scooped out and eaten in small amounts along with rice and other dishes.