Story Progress
Back to home
Moti Roti Recipe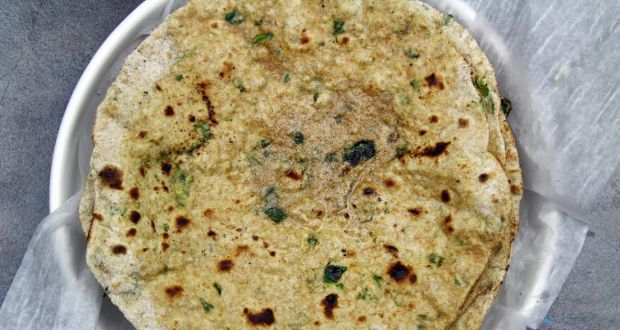 How to make the Moti Roti
A roti with a distinctive style, made from wheat and gram flour, cooked over a direct flame.

Ingredients of Moti Roti
2 Cups Whole wheat flour
1/4 cup Gram flour
to taste Salt
1 tsp Ajwain
1/8 tsp Asafoetida
1/2 tsp Chilli powder
2 tbsp Clarified butter
To mix the dough Water
To smear the roti Butter
1.
Mix all the ingredients and knead into a firm dough.
2.
Break the dough and shape into balls of about 5 cm in diameter.
3.
Roll into rounds 1/2 cm in thickness.
4.
Place a griddle on high heat. After it is hot, put the roti on it, and cook a little on both sides, till it is very slightly cooked-it just about forms an upper crust.
5.
Remove from heat and pinch the surface on one side, in a pattern, deep but not reaching the bottom.
6.
This helps cook the roti through and prevents it from puffing up.
7.
Now cook over direct flame, over a wire rack, turning constantly till both sides have brown specks all over and the roti is cooked through.
8.
Smear the cooked roti with a little clarified butter and serve.
Key Ingredients: Whole wheat flour, Gram flour, Salt, Ajwain, Asafoetida, Chilli powder, Clarified butter, Water, Butter