Story Progress
Back to home
Murgh ka Achaar Recipe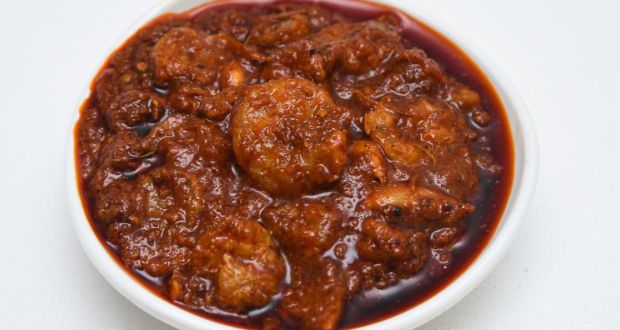 How to make Murgh ka Achaar
Pickled chicken pieces add flavour to a simple meal of rice and dal.

Ingredients of Murgh ka Achaar
2 kg chicken - cut into 16 pieces each
60 gm garlic - peeled, coarsely pounded
60 gm ginger - peeled and chopped, coarsely pounded
60 gm garam masala powder
60 gm mustard seeds powdered
1 cup chilli powder
1/3 cup salt
3/4 cup vinegar
1 cup mustard oil
1.
Heat oil in a kadahi and add the ginger and the garlic and stir fry till they turn light brown in colour.
2.
Add the chicken and continue stirring over high heat till chicken pieces are opaque.
3.
Lower the heat to medium and let cook, till tender.
4.
When the chicken is tender, increase the heat and cook over high heat till the oil separates.
5.
Add the powdered spices and salt, mix well, again over high heat, and then add the vinegar.
6.
Let it come to a boil and switch off the heat.