Story Progress
Back to home
Low Fat Murgh Kurkuri Recipe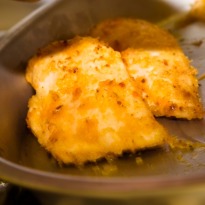 Crunchy bits of chicken fried in a coating of channa dal and green chillies.

Ingredients of Low Fat Murgh Kurkuri
4 (1/2 kg) chicken breasts, boneless
2 tsp garlic paste
2 Tbsp sirka (vinegar)
2 tsp salt or to taste
1/4 tsp kali mirch (powdered black pepper )
1/4 cup hari dhania (coriander leaves), chopped
2 tsp hari mirch (green chillies), chopped fine
1/2 cup channas roasted, coarsely pounded
1 tsp (5 gm) oil
Nimbu (sour lime), to squeeze over the chicken and lemon twists to garnish
1.
Cut chicken pieces into half and prick with a fork.
2.
Marinate in garlic paste, vinegar, salt and black pepper, and keep thus for 2-3 hours.
3.
Mix together the channas, coriander and green chillies.
4.
Coat chicken pieces with the channa mixture.
5.
Brush a seasoned pan or a non-stick pan, with oil.
6.
Heat the pan over high heat and place chicken pieces in the pan.
7.
Turn and lower the heat till chicken is cooked through (15-20 minutes).
8.
Brown on both sides, and serve hot with the lemon squeezed over the chicken, garnished with lemon twists.