Story Progress
Back to home
Nihari Gosht Recipe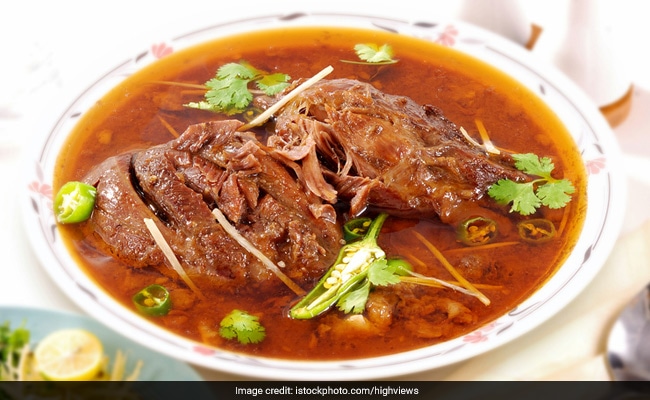 How to make Nihari Gosht
About Nihari Gosht Recipe: From the royal kitchens of the Mughals, Nihari Gosht is a traditional Muslim dish that has slowly took over taste buds of people across the borders. Nihari is a authentic dish which means a slow cooked mutton stew, which is said o be originated in the Awadhi kitchen of Lucknow. A popular dish in Pakistan and Bangladesh, Nihari is also considered to be the national dish of Pakistan. Earlier Nihari recipe had myriad variations of spices due to which it was slow cooked over night and served the next morning on special occasions and festivals like Eid. Here is the special royal recipe that you can cook at home with easy steps on festive occasions and dinner parties. Accompany it with naan, paratha or rice.
Ingredients in Nihari Gosht Recipe
: A delicious amalgamation of spices, Nihari Gosht has rich spices and herbs like cardamom, cinnamon, chillies, bay leaves, nutmeg mixed with yogurt and gulab jal. Saffron adds the exotic and aromatic flavour to the dish. This is the perfect meat dish, adorned with the aroma of rose water and tons of spices.
Total Cook Time

1 hr 35 mins

Ingredients of Nihari Gosht
1 Kg meat
2 tbsp refined oil
3-4 Green cardamoms
1 tsp whole cinnamon
2 black cardamoms
2-3 Bay leaves
1 tsp turmeric powder
1/4 cup water
1 tsp ginger-garlic paste
1 tsp coriander powder
1 tsp red chilli powder
1 tsp garlic (ground), fried
1 tsp onion (ground), fried
3 tbsp yogurt (beaten)
2 tsp gulab jal
2 tsp garam masala
1/2 tsp nutmeg-cardamom powder
1/2 tsp saffron, soaked
to taste Salt
Few drops of Ittar
Wheat dough (for dum)
for garnishing fresh coriander and ginger juliennes
1.
Heat oil in a pan and add green cardamom, cinnamon, cloves, black cardamom and bay leaves.
2.
Add the meat and saute till lightly fried.
3.
Add salt and turmeric and mix well.
4.
Pour in the water, cover the pan and cook.
5.
When it starts boiling, add ginger- garlic paste, coriander powder, red chilli, garlic paste and onion paste.
6.
Mix well and add yoghurt, gulab-jal, garam masala, nutmeg and cinnamon powder and saffron.
7.
Cover and cook for 2-3 minutes.
8.
Now transfer the meat in a heavy bottom pan and strain the gravy.
9.
Add a few drops of itar and cover the pan.
10.
Seal it with the wheat dough and cook on slow fire.
11.
Once done, garnish with fresh coriander and ginger juliennes and serve.