Story Progress
Back to home
Nimpudu Kodi Recipe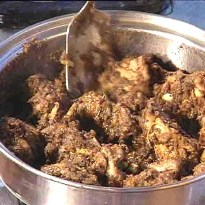 Twice cooked chicken, first simmered in coconut milk and then fried with masalas.

Ingredients of Nimpudu Kodi
50 gm cinnamon
200 gm dry coconut (grated)
4 Tbsp dhania powder
Salt to taste
1 chicken
25 gm cloves
25 gm marathi mogga
25 gm cardamom
3 Tbsp chilli powder
5 chopped onions
50 gm coriander
1 tsp turmeric
For the Masala paste:
250 gm cashewnuts
100 gm ginger
200 gm garlic
10 Tbsp oil
1.
Stuff the chicken with masala paste and tie legs and stomach with thread.
2.
Put chicken into a pan with oil.
3.
Add second extract of coconut milk and cook for 20 minutes till oil floats.
4.
Cut the chicken into pieces and keep aside.
5.
Add cinnamon, cloves, cardamom and onions in hot oil.
6.
Cook until onions are brown.
7.
Add chicken pieces and fry until it turns blackish brown.
8.
Serve with rice or vegetable pulao.