Story Progress
Back to home
Palak Murgh Roulade with Makhni Gajar Recipe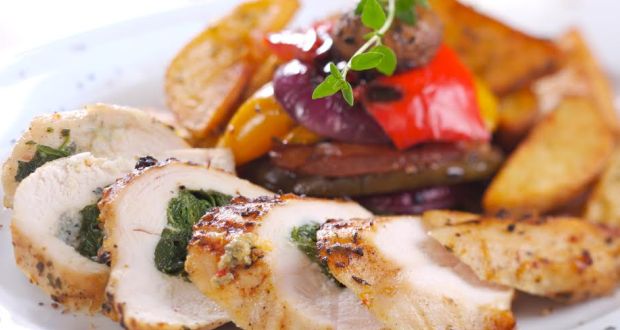 A delectable spinach-chicken roulade served on a bed of carrots.
Total Cook Time

1 hr 30 mins

Ingredients of Palak Murgh Roulade with Makhni Gajar
5 carrots
2 Tbsp garlic paste
2 tsp coriander powder
5 tsp salt
5 dry red chllies
2 Tbsp butter
3 lemons
4 Tbsp jaggery
6 chicken breast fillets
1 piece cinnamon
1 tsp coriander seeds
6 black peppercorns
3 cloves
6 tsp white cumin
2 tsp turmeric powder
2 tsp red chilli powder
3 spinach bunches
5 Tbsp cooking oil
12 cloves garlic, crushed
2 Tbsp ginger paste
7 green chillies
1 tsp mustard seeds
2 fresh coriander bunches
6 tsp red chilli flakes
1.
Peel the carrots and strip them into julienne.
2.
Saute with garlic paste, coriander powder, salt, red chilli and butter. Add lemon juice and a little jaggery. Cook till done and lay down a bed of carrots.
3.
Fillet the chicken breast. Coat thoroughly with freshly ground masalas (cinnamon, coriander seeds, black pepper, cloves and cumin). Also coat with a little turmeric powder and red chilli powder.
4.
Cook the spinach on high flame with garlic, ginger paste, spices and layer the spinach in the center of the chicken breast fillet.
5.
Make a roulade of chicken and cook in the oven till chicken is done.
6.
As soon as chicken is done, slice and set on the bed of carrots. Serve with a garnish of coriander leaves and a tempering (tadka) of butter, cumin and red chilli flakes.