Story Progress
Back to home
Paneer Malpua Recipe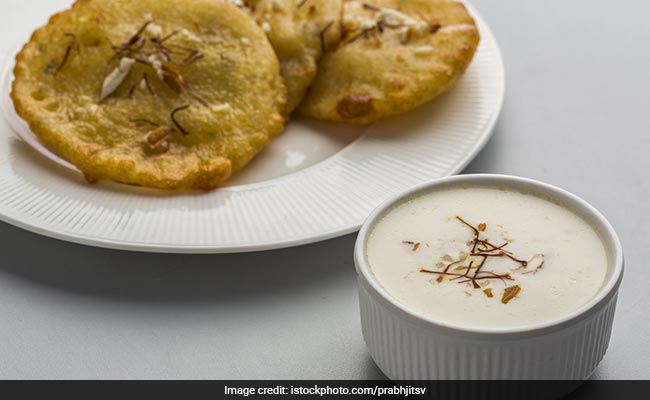 How to make Paneer Malpua
About Paneer Malpua Recipe | Malpua Recipe: A popular, pancake like Indian dessert from North India which is usually prepared on festivals and special occasions. A delicious Indian dessert which is soaked in syrup before serving. Quite popular in Rajasthan, Uttar Pradesh and parts of West Bengal, with each having a different version of cooking it. This version is made with paneer and khoya.

Ingredients of Paneer Malpua
100 Gram Paneer, grated
100 Gram Khoya (solidified milk, crumbled)
50 Gram Arrowroot
120 Ml Milk
1/4 tsp Elaichi, powdered
For pan frying Ghee
1 Cup Sugar
120 Ml Water
1/8 tsp Kesar (saffron)
For garnishing Almonds (shredded), blanched
1.
Place the paneer, khoya, arrowroot and elaichi in a bowl, and beat till smooth.
2.
Mix in enough milk to form a thick smooth batter of dropping consistency.
3.
In a broad pan, dissolve the sugar over low heat in the water, stirring all the time and not letting it come to a boil.
4.
Once it is dissolved increase the heat, add the kesar and let the syrup cook till-- a drop on the thumb, pressed with a finger and pulled apart forms a `thread'.
5.
Heat the ghee, drop equivalent to a tablespoon of the batter into it, lower the heat to medium and cook till light brown on both sides. Lift out of the fat and drop into the syrup.
6.
When all of them are thus dropped into the syrup, turn once and leave till ready to serve.
7.
Lift out and serve hot, garnished with almonds.