Story Progress
Back to home
Parwal Aloo Recipe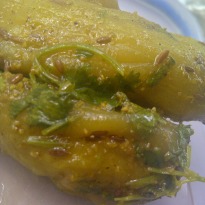 How to make Parwal Aloo
Parwal or pointed gourd cooked with potatoes and lots of spices.

Ingredients of Parwal Aloo
10-12 parwals
125 gm potatoes
1/2 cup oil
1 tsp cumin seeds- roasted and powdered
1/2 tsp chilli powder
1/4 tsp turmeric
2 tsp coriander powder
Salt to taste
1/2 tsp garam masala
1 tsp mango powder
1/4 tsp asafoetida
1 Tbsp chopped coriander leaves
1.
Cut the parwals lengthwise into halves. Remove any fibers and seeds that are yellow and hard, as these remain tough even when cooked.
2.
Peel the potatoes and cut them lengthwise to match the parwals.
3.
Heat the oil in a kadahi, over high heat, add the potatoes.
4.
Stir-fry the potatoes till they are of a creamish colour.
5.
Remove them with a slotted spoon and add the parwals in the same oil.
6.
Fry to a light brown and till the edges fold towards each other.
7.
Add the rest of the ingredients, except the coriander leaves.
8.
Lower heat, cover and cook till the potatoes and the parwals are tender.
9.
Serve hot, garnished with coriander leaves.