Story Progress
Back to home
Peshawari Chappali Kebab Recipe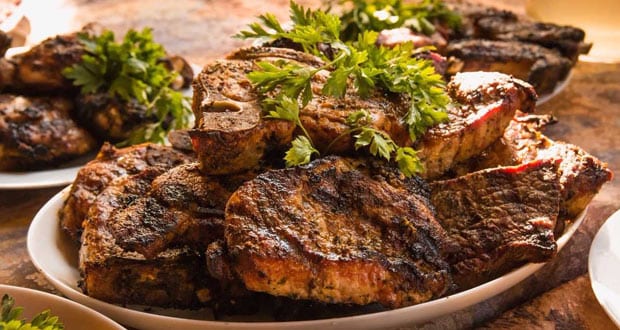 How to make Peshawari Chappali Kebab
About Peshawari Chappali Kebab Recipe | Mutton Kebab Recipe: Minced lamb kebabs made from herbs, spices, eggs, pomegranate seeds and ginger. Served with an apricot-jaggery-raisin sauce.
Total Cook Time

1 hr 20 mins

Ingredients of Peshawari Chappali Kebab
For Peshawari Chappali Kebab:
1 Kg Lamb mince
1 Tbsp Coriander seeds (whole)
1/2 tsp Cumin seeds
1 tsp Red chilli (crushed)
1 tsp Salt
2 Large Onions, chopped
5 Tomatoes, chopped
1 1/2 Cup Flour (besan)
3 Eggs
2 Tbsp Pomegranate seeds (anar dana)
2 Tbsp Ginger, chopped
300 Gram Cooking fat/ ghee
For Sauce:
500 Gram Dry apricots
250 Gram Jaggery (gur)
200 Gram Raisins
250 Gram Lemons
To taste Salt
Prepare Peshawari Chappali Kebab:
1.
Mix all the spices with the lamb mince and mash it well.
2.
Mix in chopped onions, tomatoes and gram flour.
3.
Fold in eggs with a light hand.
4.
Now add pomegranate seeds and chopped ginger. Keep aside in refrigerator for 5 minutes.
5.
After the mixture is set, make flat elongated kebabs out of it.
6.
Place a tomato slice on kebab and fry both sides in cooking fat or ghee.
7.
Keep aside and fry once more to cook through.
Prepare Sauce:
1.
Put all ingredients in 1 cup water and boil.
2.
Reduce for 10-15 minutes.
3.
Once done, take off heat and whisk the sauce till smooth.
4.
Serve with Peshawari chappali kebab.