Story Progress
Back to home
Pilons De Poulet Recipe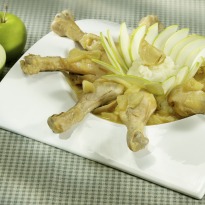 An easy to make recipe with chicken drumsticks and apples.

Ingredients of Pilons De Poulet
750 g chicken drumsticks or thighs cut in two or four
Salt and pepper to taste
30 ml vegetable oil
2 garlic cloves
30 ml fresh ginger
1 onion finely chopped
1 pat of butter
500 ml vegetable or chicken stock
4 Granny Smith apples, chopped
Serve it with:
2 potatoes
2 Granny Smith apples
1/2 celery root
1 pat of butter
Salt and pepper to taste
1.
Season drumsticks with salt and pepper.
2.
Heat oil in a large saute pan, add garlic and ginger. Saute for about 2 minutes.
3.
Add drumsticks and onion and saute 3 to 4 minutes until chicken is browned.
4.
Add stock and Granny Smith apples and cook over medium heat until chicken in cooked through (approx. 30 minutes).
Serve it with:
1.
Peel and chop potatoes, Granny Smith apples and celery root until fork-tender.
2.
Saute apples in a part of butter until soft, puree all ingredients and season with salt and pepper to taste.