Story Progress
Back to home
Plain Biscuits Recipe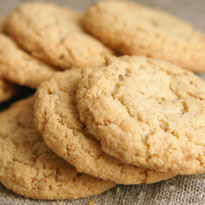 Made out of all purpose flour, these biscuits carry the classic tag.

Ingredients of Plain Biscuits
Oven Temp: 350 F-180 C
1 1/2 cups (180 gm) maida
1 tsp baking powder
1/2 cup (120 gm) butter
1/4 cup (180 gm) powdered sugar
2 eggs
1/2 tsp Vanilla
1.
Mix the baking powder into the maida.
2.
Add the butter into it, and mix lightly with finger-tips, to make the mixture look like bread-crumbs.
3.
Add the egg and vanilla and mix lightly, till the mixture collects into a mass. Roll the dough into a sheet of 1/4" thickness.
4.
Cut into desired sized rectangles. Prick with a fork in 2-3 places.
5.
Bake in the pre-heated oven for 10-12 minutes.