Story Progress
Back to home
Prawn Stew Recipe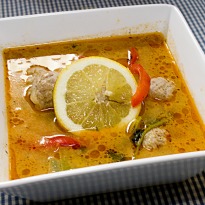 How to make Prawn Stew
A light and coconut-y stew with delicately seared prawns and the aroma of freshly roasted spices.

Ingredients of Prawn Stew
For the prawns:
10 prawns, de-shelled and de-veined
1 Tbsp vinegar
Crushed black pepper, to taste
1/2 tsp oil, to pan sear
For the masala:
Dry roast the following
2 star anise
1 tsp fennel seeds
2 inch cinnamon stick
12 pieces of cloves (laung)
3 black cardamom pieces
1 tsp whole black pepper
For the stew:
1 tsp oil
1 tsp garlic, chopped
3-4 green chillies slit
2 onions, chopped
1/4 tsp turmeric powder
1 tsp coriander powder
10-15 curry leaves
2 cups or 400 ml of coconut milk
1 cup coconut water
Salt
For the prawns:
1.
In a bowl, marinate the prawns in vinegar and freshly ground black pepper for 5-10 minutes.
2.
Pan sear the prawns in some olive oil.
For the masala:
1.
Roast the spices on a tawa till you get a lovely fragrance.
2.
Then grind it in a mixie.
For the stew:
1.
Take a deep pan. Add oil and saute onions and garlic.
2.
Add green chillies, curry leaves, turmeric and coriander powder.
3.
Then add coconut milk and the coconut water.
4.
Let it come to a boil, temper it down with the roasted masala mix and salt.
5.
Add the pan seared prawns.
6.
Let it simmer for 10 minutes.