Story Progress
Back to home
Prawns Wrapped in Noodles Recipe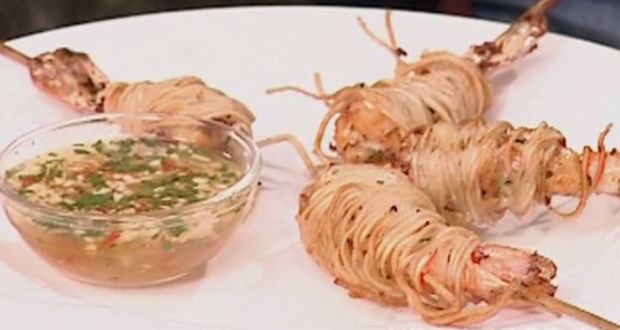 How to make Prawns Wrapped in Noodles
Chinese food is so delicious that you would keep coming back for more. This time we cook up an easy Chinese inspired dish. Tiger prawns marinated in spices, then wrapped in noodles and finally fried golden. Delightful!

Ingredients of Prawns Wrapped in Noodles
4 tiger or king prawns (cleaned)
1/4 cup lemon juice
1 whole red chilly (mashed)
garlic (mashed)
A pinch of salt
A pinch of pepper
1/4 onion , finely chopped
Handful of coriander, chopped
For the Sauce:
1/4 cup lime juice
2 tsp fish sauce
1/2 tsp garlic
1 tsp coriander, chopped
1/2 tsp chilly
A pinch of sugar
to taste salt and pepper
For Wrapping:
1 packet rice noodles, boiled
satay sticks
oil for frying
1.
Marinate the prawns in lemon juice, red chilly, salt, pepper, coriander, onions and garlic.
2.
Let it marinate for a couple of minutes.
3.
In the meanwhile make the sauce.
4.
Mix all the sauce ingredients.
5.
Pierce the prawns with the satay sticks through the back of its tail.
6.
Wrap these with the noodle strands and deep fry them.