Story Progress
Back to home
Raan Musallam Recipe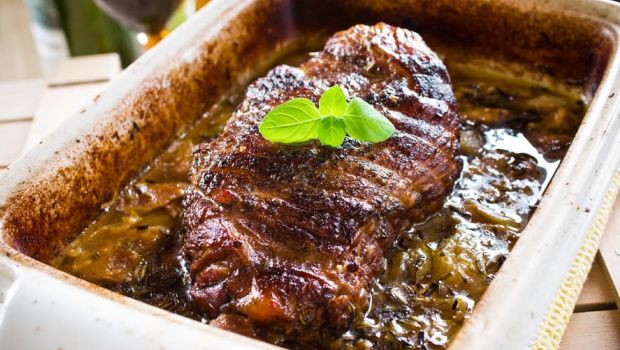 How to make Raan Musallam
A dish that would have had the Great Mughal Kings licking their fingers - a Raan Mussallam. Mutton and chicken marinated in a variety of spices, cooked on slow fire and topped with a gravy made with fried onions, dry fruits and spices.
Total Cook Time

1 hr 25 mins

Ingredients of Raan Musallam
1 kg Raan, deboned
4 chicken breast pieces, boneless
50 ml mustard oil
2-3 bay leafs
2 sticks of cinnamon
4 brown cardamoms
8 green cardamoms
2 florets of mace
1/2 tsp black peppercorns
1 1/2 tsp cumin seeds
1 1/2 tsp coriander seeds
100 gms ginger, garlic and green chilli paste
150 gms hung curd
2 Tbsp red chili powder
2 Tbsp turmeric powder
150 gms poppy seed, coconut and cashew nut paste
100 gms fried onions
3 Tbsp ghee
50 gms cashew nut and raisins
1 lime
1.
In a pan, dry roast the bay leaf, cinnamon, brown cardamom, green cardamom, mace, black pepper, cumin seeds and whole coriander seeds.
2.
Transfer them into mortar and pestle, grind them finely to make fresh garam masala.
3.
In a bowl, mix ginger garlic and chilli paste, hung curd, red chilli powder, turmeric powder, ground poppy coconut cashew nut paste, fried onions, ground garam masala and butter. This is your marinade.
4.
First, apply mustard oil to the chicken breasts and then marinate them.
5.
Next, marinate the raan, place the chicken breasts on it and add a layer of cashew nut and raisins.
6.
Tie and roll up the raan and chicken breast together with the help of a thread.
7.
Cook the the stuffed raan, in ghee, on a slow fire. Once both the sides of the raan are seared, cover and let it cook for an hour.
8.
With the remaining marinade, make a quick gravy by cooking it out in mustard oil and adding a little water to it.
9.
Ladle the gravy on to the cooked Raan.
10.
Garnish with lime, sprinkle raisins, cashew nuts and fried onions.