Story Progress
Back to home
Rajbhog Recipe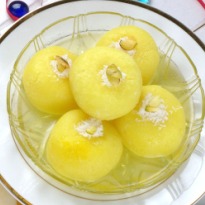 How to make Rajbhog
A traditional Bengali sweet made with paneer and stuffed with almonds and pistachios.

Ingredients of Rajbhog
200 gm paneer from cow's milk
1 Tbsp maida (refined flour)
1/2 kg sugar
2 cups water
1/4 tsp golden food color
1/8 tsp saffron
1 tsp cardamom powder
8 blanched and chopped almonds
8 blanched and chopped pistachios
1.
Mix the saffron with the cardamom powder, almonds and the pistachios.
2.
Put the sugar and water over medium heat, to dissolve the sugar, stirring all the time.
3.
Meanwhile mash the paneer and maida together to a smooth consistency.
4.
Divide mixture into 6-8 and form round flats, put some mixture in the center and form into smooth round balls again.
5.
When the sugar is dissolved, add the food color and over high heat add the paneer balls.
6.
Cook over high heat for 15-20 minutes, adding water every 5 minutes, so that the sugar does not get too thick. Cool and serve.