Story Progress
Back to home
Refried Beans Recipe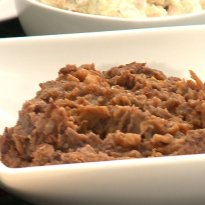 Red kidney beans cooked with assorted flavours, fried again with onion quarters.

Ingredients of Refried Beans
1 cup red kidney beans or rajma
2 clove of garlic
1 onion cut in half
2 green chillies
1 tsp salt
1 tsp sugar
1 tbsp oil
1/2 onion chopped
2 tablespoon oil
1/2 onion quartered
1 tbsp cheese
1.
Boil the beans after soaking them over night, with cloves of garlic, onion and green chillies.
2.
Once boiled soft, add sugar and salt, discard the garlic, onion and green chillies. Simmer for 10 minutes.
3.
Now heat oil, add the chopped onions until golden, and then add the beans. Smash them to the side of the pan.
4.
Heat oil in a heavy pan. Fry onion quarters till they are black and discard them. They have now flavoured the oil.
5.
Now add the cooked beans and fry over again.