Story Progress
Back to home
Brown Rice Salad With Veggies Recipe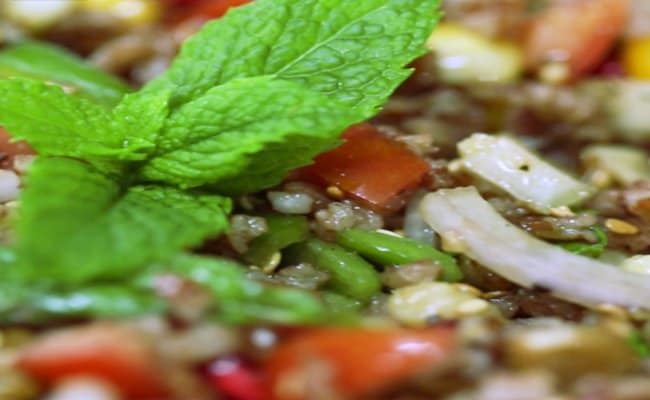 How to make Brown Rice Salad
Tired to cook up a meal ? You could probably go in for a Rice Salad which is hassle free and makes for a satisfying meal. Made with brown rice, this salad has rice tossed with bell peppers, spring onions, tomatoes and drizzled with lemon, garlic and olive oil dressing.

Ingredients of Brown Rice Salad With Veggies
200 gms long grain brown rice
1 red pepper
1 green pepper
4 spring onions, finely chopped
2 tomatoes
2 tbsp fresh parsley, chopped
2-3 garlic cloves, chopped
1/2 lemon
2 tbsp olive oil
salt
black pepper
1.
Wash, rinse and cook the rice.
2.
When cooked, drain, rinse in cold water and allow cooling.
3.
Wash the other vegetables, de-seed the peppers and slice them thinly.
4.
Cut the tomatoes into wedges. Mix all the prepared vegetables with the cooked rice.
5.
In a bowl, squeeze the lemon, strain the pips out of the juice and mix it with the olive oil, salt and black pepper.
6.
Peel and chop the garlic and add it to the above mixture.
7.
Blend until smooth and pour on to the rice salad, stirring it gently to coat the ingredients.