Story Progress
Back to home
Roasted Carrot, Rosemary, White Bean Hummus Recipe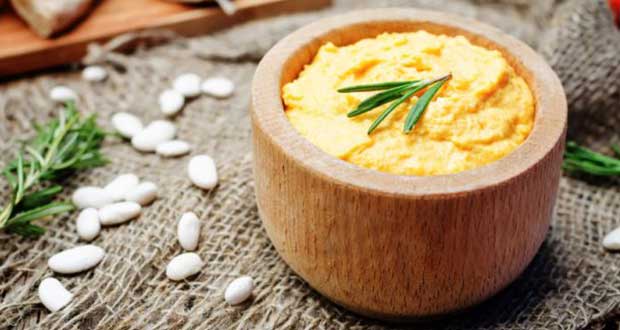 Here, white beans take over chickpeas to make this smoky and incredibly delicious hummus. Add in rosemary for a flavour boost.

Ingredients of Roasted Carrot, Rosemary, White Bean Hummus
Ingredients
2 cups white beans, boiled
2 carrots, peeled
¼ cup of olive oil, plus extra for topping
4-5 garlic cloves
2 Tbsp of lemon juice
½ tsp of cumin powder
Salt to taste
1 tsp red chilli powder
Rosemary sprigs to garnish
1.
1. Oil the carrots and roast them in the oven for 15 minutes.
2.
2. In a food processer or blender, mix the white beans and garlic, and pulse until smooth. You can add a little water, if you find the mixture a little dry.
3.
3. Add the carrots, cumin powder, red chilli powder, olive oil and salt, and blend again until smooth.
4.
4. Transfer to a bowl, and add the lemon juice. Mix well and check seasoning.
5.
5. Finish with a drizzling of olive oil, a sprinkling of red chilli powder and rosemary sprigs on top. Serve with pita breads.