Story Progress
Back to home
Red Pepper Soup Recipe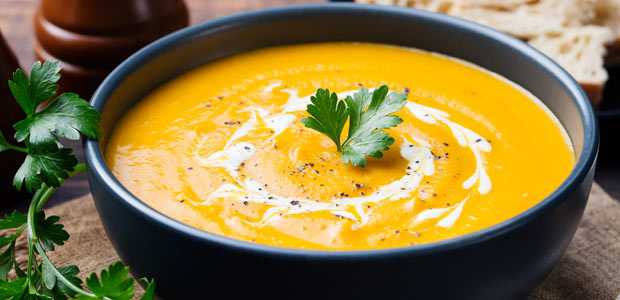 How to make Red Pepper Soup
About Red Pepper Soup Recipe: A healthy winter treat with the vegetables, which we underestimate, given a makeover. Whip up a comforting bowl of red pepper soup.

Ingredients of Red Pepper Soup
2 Tbsp olive oil
1/2 spring onion stalk
30 gms leek
2 celery stalks
1 tbsp ginger
2 Red bell peppers
1 Tomato
1 tsp paprika
60 ml tomato juice
1 litre vegetable stock
3-4 Basil leaves
1/2 orange (juice and zest)
Few sprigs of fresh oregano
1 Bay leaf
1 tbsp onions, chopped
1.
In a heavy bottomed pan, sweat the spring onions, leeks and celery.
2.
Add the red bell peppers, ginger and tomatoes.
3.
Cook for about 5-6 minutes.
4.
Add the paprika powder, red chillies and tomato juice to the pan and cook for 6 more minutes.
5.
Add the vegetable stock and cook for about 20 minutes till all the veggies are soft.
6.
Blend the soup with a mixer or a blender till very smooth.
7.
Add orange zest, chopped parsley and oregano.
9.
Garnish with basil leaves.