Story Progress
Back to home
Rosemary and Sumac Mock Chicken Recipe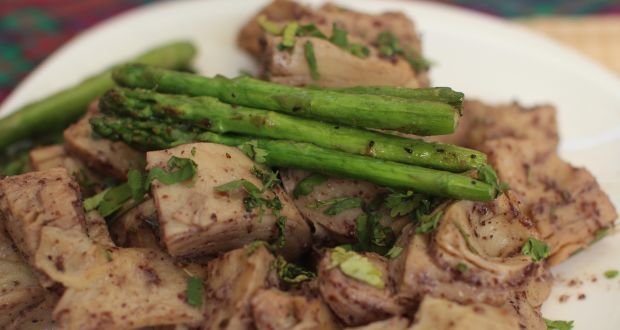 Mock chicken marinated in flavors of lemon, ginger-garlic, rosemary, sumac and lightly pan fried.

Ingredients of Rosemary and Sumac Mock Chicken
1/2 kg mock chicken
1 Tbsp lemon juice
3 Tbsp ginger garlic paste
1 tsp Sumac powder (a red spice commonly used in Middle Eastern cuisine)
Few sprigs of rosemary
Lots of freshly ground black pepper
Salt to flavor
1 Tbsp Oil
1.
Mock chicken has a meaty flavor but made with vegetarian ingredients, as the name suggests. Usually its made with soya but the one used in this recipe is made with wheat protien. It is a low fat, high protien substitute for chicken.
2.
Marinate the mock chicken in all the above for 1/2 hour or more. Keep it in the refrigerator.
3.
Once marinated, take a flat pan, and in a tablespoon of oil, fry it till it's cooked. Don't forget to scoop up the juices from the pan.
4.
Garnish with some fresh coriander leaves.
5.
Note - Mock chicken cooks quicker than its meat counterpart.