Story Progress
Back to home
Salted Caramel Chocolate Tarts Recipe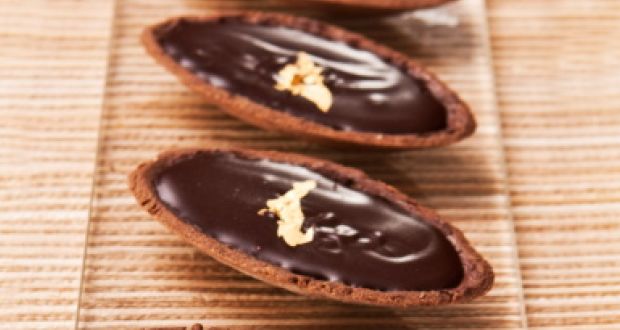 These bite sized chocolate and caramel tarts are perfect for to impress your guests. The dark chocolate balances the sweet and salty caramel for an incredibly indulgent experience.
Total Cook Time

1 hr 15 mins

Ingredients of Salted Caramel Chocolate Tarts
For Tarts:
375 gms flour
1 cup sugar
1 egg
250 gms butter
16 Tbsp cocoa powder
For the Salted Caramel:
3 Tbsp sugar
14 Tbsp cream
1 Tbsp butter
Pinch of sea salt
1 stick vanilla pod
1.
1. Sift flour and cocoa powder together.
2.
2. Add butter, sugar until the mixture is creamy and smooth slowly.
3.
3. Add eggs a little at a time.
5.
5. Roll dough on a light floured surface, shape dough into flat disks and fold it a bit.
6.
6. Dock with fork by placing a few small holes in the bottom of the dough to allow air through.
7.
7. Bake till the crust gets light brown in colour (20 minutes-baking time).
8.
8. Once the shell cools a bit, fill it the salted caramel chocolate filing.
For the Salted Caramel:
1.
1. Warm the cream to infuse vanilla.
2.
2. In a pot caramelise the sugar.
3.
3. When the sugar turns amber,add the infused cream and melted dark chocolate.
4.
4. Boil this mixture again and add the butter and a pinch of sea salt.
6.
6. Place it over the freshly prepared tarts.