Story Progress
Back to home
Senjne ki Phalli Recipe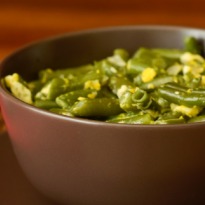 How to make Senjne ki Phalli
Drumsticks cooked in zesty seasoning.

Ingredients of Senjne ki Phalli
125 gm drumsticks
1/4 cup oil
1 tsp mustard seeds
15-20 curry leaves
1 tsp ginger-finely chopped
2 tsp salt
1/2 tsp turmeric powder
2 tsp coriander powder
1/2 tsp red chillies-coarsely pounded
1/4 tsp garam masala
1/4 cup desiccated coconut
1.
Wash and scrape the skin off the drumsticks-using a peeler, scrape one layer off, which will leave the stick looking a striped green and white.
2.
Cut these into 7 cm/ 3" pieces.
3.
Heat the oil, add mustard seeds and curry leaves followed by ginger and saute to a very light brown.
4.
Add salt, turmeric, coriander, red chillies and garam masala. Stir-fry a few times, add drumsticks and coconut. Mix well.
5.
Add approximately 1/2 cup of water, bring to a boil and simmer until cooked through.
6.
Serve hot garnished with coriander leaves and desiccated coconut.