Story Progress
Back to home
Shahi Pasanda with Tawa Roti Recipe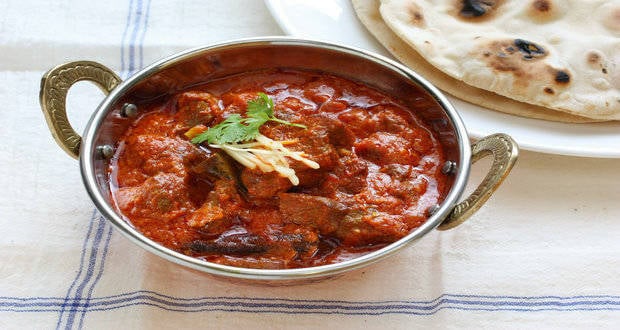 Duck breast cooked with spices, cream cheese, tomatoes and yoghurt. Served with tawa roti.

Ingredients of Shahi Pasanda with Tawa Roti
500 g duck breast
100 gm brown onion
150 gm cashew nuts
100 gm sesame seeds
1 bunch fresh mint
2 cups yoghurt (250 gm)
300 gm desi ghee
1 Tbsp ginger paste
1 Tbsp garlic paste
1 tsp white pepper powder
1 tsp dry ginger powder
1 tsp garam masala powder
1 tsp cumin seeds
1 tsp red chilli, crushed
Salt to taste
1 tsp mustard seeds
1 tsp onion seeds
3 tomatoes, chopped
1/2 cup cream cheese
For Garnish:
100 gm pine nuts
For Tawa Roti:
500 gm wheat flour
Salt to taste
1.
Wash the duck and cut each breast into 4 slices, horizontally.
2.
Boil brown onion, cashew, sesame seeds and fresh mint and when cool, grind it with yoghurt to a paste.
3.
Now take a pot. Saute ginger paste, garlic paste in ghee and add the remaining spices,
4.
tomatoes and the yoghurt paste.
5.
Then put the breast and cook. Leave it on steam for 15 minutes.
6.
Also add cream cheese while finishing. Do not cook it much.
7.
Then take the duck breasts out and garnish with pine nuts.
For Tawa Roti:
1.
Knead dough of wheat flour with little salt and water.
2.
Make balls, roll out and cook like regular rotis.
3.
Serve shahi pasanda with tawa roti.