Story Progress
Back to home
Shalgam ki Sabzi Recipe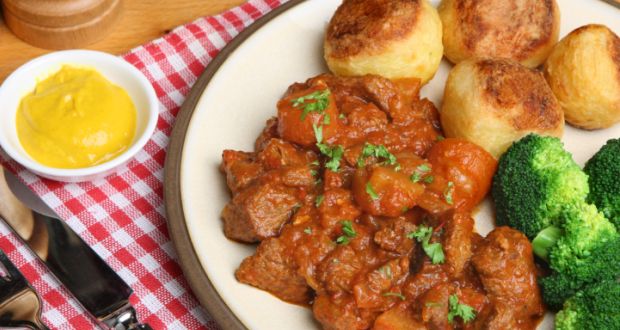 How to make Shalgam ki Sabzi
Shalgam ki Sabzi Recipe: A winter veggie, shalgam or turnip, from the radish family, is a great option to cook for lunch. A perfect recipe to dish up in just 30 minutes! Shalgam ki sabzi is largely associated with the Punjabi cuisine where chunks of turnip is cooked in simple everyday flavors by adding a good amount of tomatoes and onion. It is a semi dry curry so you can have it along a roti as well as pair up with some leftover rice. A satiating and comfort food to cook for lunch, put some pickle and dal to accompany this and you'll have a wholesome meal at the table.

Ingredients of Shalgam ki Sabzi
500 Gram Turnips (chopped and washed), peeled
2 large Onion , chopped
2 Tomatoes, chopped
1 tsp Garlic and ginger, grated
2 Green chillies , chopped
1 tsp Sugar, cumin powder and coriander powder
1 tsp Turmeric powder
1 cup Water
2 tbsp Butter / oil
to taste Salt
Coriander leaves to garnish., finely chopped
1.
Heat the butter / oil in a pressure cooker till it is medium hot.
2.
Add the chopped green chillies, grated ginger and garlic.
4.
Add the chopped onions and saute on medium heat for 3 minutes or till the onions are lightly browned.
5.
Now, add the chopped tomatoes, salt, and the turmeric, cumin and coriander powders.
6.
Stir fry on medium / low heat for 3 minutes or till the fat leaves the sides of the cooker.
7.
Add the chopped turnips and mix.
8.
Add the water and stir well.
9.
Close the cooker and bring to maximum pressure on high heat.
10.
Now, reduce the heat and cook on low level for about 15 minutes.
11.
Open the cooker after all the steam has escaped. Add the sugar and very lightly mash the cooked turnips.
12.
Keep on the flame for a few minutes to dry out excess water if any.
13.
Garnish with finely chopped coriander leaves.