Story Progress
Back to home
Sharife ki Kheer Recipe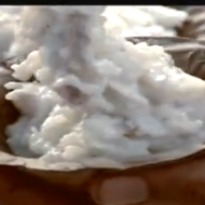 Aditya Bal cooks a thick creamy kheer made with rice, custard apple and loads of nuts in Maheshwar.

Ingredients of Sharife ki Kheer
2 liters full-cream milk
3/4 th cup basmati rice, washed and soaked
1 1/2 cup granulated sugar
2 large custard apples (sharifa), deseeded
A handful of raisins
A handful of cashew nuts, roughly chopped
A handful of almonds, roughly chopped
2-3 green cardamoms, ground to a powder
1.
Bring the milk to a boil in a thick bottomed pan, by covering and cooking it on a high flame for about 10-15 minutes.
2.
Uncover the pan and reduce the milk by 10 to 15 percent by letting it simmer for 10 minutes.
3.
Add the washed and soaked basmati rice. Cover the pan and let the milk come up to a boil.
4.
Let the rice cook for 20 minutes on simmer, till it thickens.
5.
Stir in the sugar and let the kheer cook on a gentle heat until the sugar dissolves, for 5 minutes.
6.
Next, add in the raisins, cashew nuts, almonds, and powdered cardamom. Mix well.
7.
Add in the deseeded sharifa, stir and take off the flame after 30 seconds.