Story Progress
Back to home
Spiced Paneer with Tamatar-Aloo Jhol Recipe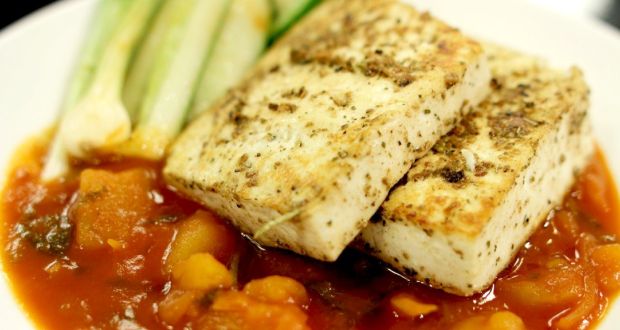 How to make Spiced Paneer with Tamatar-Aloo Jhol
About Spiced Paneer with Tamatar-Aloo Jhol Recipe: An inventive whole veggie meal. Paneer marinated in spices, served with a tangy gravy of tomatoes and potatoes.
Total Cook Time

1 hr 15 mins

Ingredients of Spiced Paneer with Tamatar-Aloo Jhol
For the garam masala:
5 green cardamom clove
1 1/2 tsp cumin seeds
1 tsp black pepper corns
5 cloves
2 tsp coriander seeds
1/2 Bay leaf
For the paneer steaks:
2 Paneer steaks (thick)
2 tsp refined oil
1 tsp garam masala
to taste salt
For the aloo-tamatar ka jhol:
1 1/2 onion, julienne
1 Green chili, chopped
2 Garlic cloves
1 tbsp Refined oil
1 Cassia bark stick
1/2 tsp turmeric powder
1 tsp chili powder
A pinch of garam masala
1 cup water
2 potatoes (hand crumbled), boiled
1 bowl tomatoes puree
Handful of coriander leaves
For the fresh green salad:
1/2 cucumber (de-seeded), julienne
2 spring onions (halved)
1 Capsicum, julienne
1 Lemon (squeezed)
to taste Salt
A pinch of chili powder
Prepare the garam masala:
1.
Dry roast all the ingredients together on a pre-heated pan. Then put them in a grinder and bring to a fine powder.
Prepare the paneer steaks:
1.
Place the steaks on a plate and rub in some refined oil on both sides.
2.
Sprinkle garam masala on both the sides. Cover the steak and put them in the freezer for 30 minutes.
3.
Once marinated - Heat up a non-stick pan and heat some oil. Place the paneer steak and season with salt. Let it sear till golden.
Prepare the aloo-tamatar ka jhol:
1.
Heat up a pan and drizzle oil. Add onions, garlic and green chili and flavor it with a cassia bark.
2.
Let the onion soften slightly. Add turmeric powder, chili powder, garam masala, salt to taste and 1/2 glass of water.
3.
Cook it till the oil rises to the top. Add potatoes to the pan and season with salt.
4.
Toss and mix it all. Add tomato puree to the pan.
5.
Mix it and add coriander and 4-5 glasses of water. Cook it for 5-10 odd minutes.
Prepare the apple salad:
1.
Bring together all the ingredients in a bowl and mix them well.
Plating it up:
1.
Transfer jhol in a bowl and add paneer steak and salad.