Story Progress
Back to home
Steamed Sandesh Recipe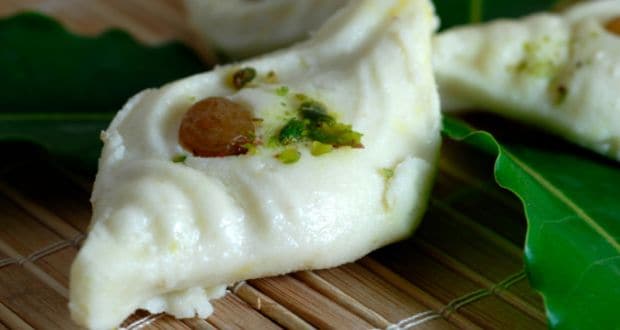 How to make Steamed Sandesh
About Steamed Sandesh Recipe: A super delicious Bengali dessert, Sandesh is a luscious milk based dish filled with the goodness of dry fruits. Some people in the region of Dhaka call it 'pranahara' which literally means heart stealer and it is definitely not an overrated fact to state so! A steamed sandesh is a good option to prepare for diwali this season and relish along with family and friends.

Ingredients of Steamed Sandesh
7 Litre milk
300 sugar
10 green cardamom
200 mixed dry fruits
10 ghee
200 vinegar
1.
Boil milk and add vinegar to it. When its curdle, strain it through muslin cloth and shake it to drain the excess water.
2.
Knead it properly to make it soft and add sugar, cardamom powder and dry fruits.
3.
Take tray, apply ghee in the base and then set this mix in it.
4.
Give rest for 1 hour in a cold room and cover it with aluminium foil.
5.
Put this tray in steaming for 30 minutes in 180 C, take it out and give the desired shape.