Story Progress
Back to home
Strawberry Jam Recipe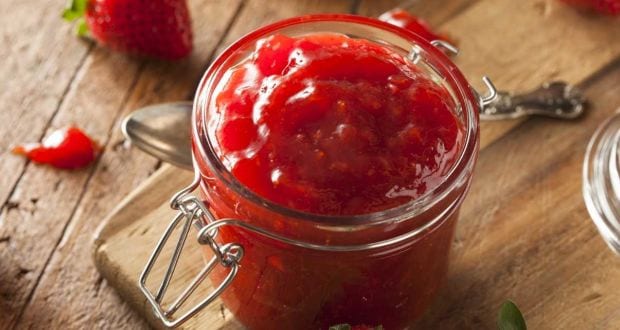 How to make Strawberry Jam
A tasty homemade strawberry jam without any preservatives. Spreads smoothly on your toast, this jam is worth trying.

Ingredients of Strawberry Jam
2 Kg Strawberries (firm but ripe)
1 1/2 kg Sugar
1/4 cup Lemon juice
1 tsp Butter
1.
Wash the strawberries and hull them. Leave them for water to drain out completely.
2.
In a stainless steel sauce pan layer the strawberries in the pan and sprinkle them with the sugar as you go.
3.
Leave thus overnight, (for sugar to draw out the juices, firm the fruit and they will stay more whole in the jam).
4.
When you make the jam place the pan over low heat to melt the rest of the sugar, (do not let it come to a boil till sugar is dissolved) shake the pan now and then, don't stir too much.
5.
When the sugar is dissolved add the lemon juice and turn up the heat, when the jam bubbles start timing, begin with 8 minutes and then remove from the heat.
6.
Spoon a little jam on a plate, let cool, then push with your finger, if you get a crinkly skin it is set. If not, boil it up again for another 3-5 minutes and do the test again, if necessary do more repeats.
7.
When ready remove from the heat, stir in the butter to dissolve the scum and let the jam settle for 15 to 20 minutes.
8.
Pour the jam in dry clean jars, which are heated in the oven for 5 minutes (325F) Cover with waxed discs and seal with lids or cellophane.