Story Progress
Back to home
Stuffed Aubergines with Lamb Recipe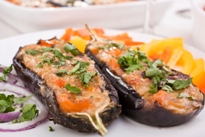 How to make Stuffed Aubergines with Lamb
Minced lamb cooked with tangy seasoning, stuffed in aubergine shells and grilled all around.

Ingredients of Stuffed Aubergines with Lamb
2 Medium Aubergines
1 Medium Onion, sliced
1 tsp Ginger, grated
1 Medium Tomato, chopped
1 Medium Green pepper, chopped
1 Medium Orange pepper, chopped
2 Tbsp Vegetable oil
1 Garlic clove (crushed)
1/4 tsp Turmeric powder
1 tsp Chilli powder
1 tsp Salt
1 tsp Coriander powder
350 Gram Lamb (minced)
2 Tbsp Fresh coriander, chopped
Garnish with:
1/2 Onion, sliced
2 Cherry tomatoes (quartered)
Fresh coriander sprigs
1.
Cut the aubergines in half lengthwise and scoop out the flesh.
2.
Brush the shells with a little vegetable oil.
3.
In a medium saucepan, heat a tbsp of oil and fry the sliced onion till it turns a golden brown.
4.
Stir in the grated ginger, chilli powder, garlic, turmeric, salt and ground coriander.
5.
Add the chopped tomato and lower the heat and cook for 5 minutes stirring continuously.
6.
Add the minced lamb to the saucepan and continue to cook over a medium heat for about 10 minutes.
7.
Stir in the chopped fresh peppers and the fresh coriander.
8.
Spoon the lamb mixture into the aubergine shells and brush the edges of the shell with the remaining oil.
9.
Cook under a medium grill for 20 minutes until it is cooked through.
10.
Allow it to cool before packing and garnish at the picnic site before serving.