Story Progress
Back to home
Stuffed Mushroom Caps Recipe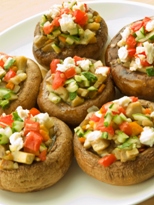 Marinated mushrooms stuffed with garlic peppers and tofu parsley.

Ingredients of Stuffed Mushroom Caps
30 medium mushrooms
1 Tbsp red miso
1/2 cup water
2 tsp mild vinegar
1 tsp dark sesame oil
1 Tbsp finely minced garlic
2 Tbsp finely minced fresh ginger
2 cups water
1 chopped red pepper
1 chopped yellow pepper
1 chopped green pepper
8-10 small cubes of firm tofu (50 gm)
2 Tbsp chopped parsley
1.
Wash and remove the stems from mushrooms.
2.
Make a mixture of miso, water, vinegar, sesame oil, garlic and ginger. Set aside.
3.
Put the mushrooms and the water together and stir over medium heat until the water has evaporated and the mushrooms are beginning to darken.
4.
Pour the miso mixture over and cook about 30 seconds longer and remove from heat.
5.
Pour the mushrooms and their marinade into a dish and allow to sit for half an hour to absorb the flavors.
6.
Separately toss the peppers in garlic and then add the parsley and tofu. Cook for about 30 seconds.
7.
Season and add the excess liquid left from marinating.
8.
Stuff the mixture into the mushroom caps and serve hot.