Story Progress
Back to home
Tempered Bread Vagharia Recipe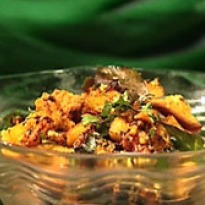 Crumbled bread cooked with vegetables. Makes for a nice and light snack.

Ingredients of Tempered Bread Vagharia
5-7 whole wheat bread slices
1 tomato - finely chopped
2 stalks of curry leaves
3 green chillies - chopped 1/2 a cup of sprouts
1 tsp. sesame seeds
1/4 tsp cumin
1/4 tsp mustard seeds
1/2 tsp chilli powder
1/2 tsp turmeric powder
1/2 tsp asafoetida powder
1/2 lemon, juice extracted
salt to taste
2 tbsp oil
coriander leaves - for garnishing
1.
Crumble bread slices coarsely with hands.
2.
Sprinkle chilli powder, turmeric, salt over bread.
3.
Mix gently with hands, keep aside.
4.
Heat oil in a large pan, add seeds, asafoetida, allow to splutter.
5.
Add chillies, curry leaves, tomatoes, moong sprouts.
6.
Stir and sauté for 2-3 minutes, add lemon juice.
7.
Add bread, sesame seeds, stir gently till well blended with seasoning mixture.
8.
Sprinkle coriander leaves.
9.
Serve hot and right away.