Story Progress
Back to home
Textures of Soy Recipe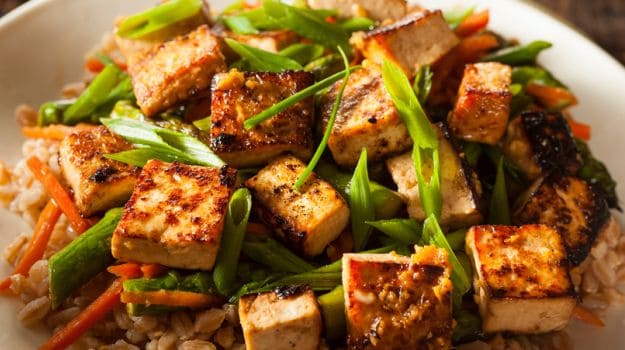 How to make Textures of Soy
About Textures of Soy Recipe: A delightfully healthy dish of tofu drizzled with some soya bean sauce accompanied by stir fried romaine lettuce.

Ingredients of Textures of Soy
60 gms tofu
salt and pepper (to season)
1 tbsp togarashi (shichimi) peppers
1 tbsp olive oil
For the soy bean sauce:
1/2 small onion, chopped
2 garlic cloves, chopped
1 tbsp ginger, finely chopped
1 medium green chilli, finely chopped
5 gms jaggery (crumbled)
1 tbsp sesame oil
40 gms soy beans (cooked)
1/2 tbsp tamarind pulp
5 gms kobe ginger/sushi gari, chopped
salt and pepper (to season)
1 tbsp light soy sauce
2-3 tbsp cooking liquid from soy beans
2-3 torn basil leaves
For the stir-fried romaine lettuce:
1/2 head of romaine lettuce, chopped
1 1/2 tsp olive oil
1 tbsp ginger, julienne
1 green chilli (split), sliced
30 gms raw mango, julienne
1-2 tbsp soya bean along with its water
1 tbsp light soya sauce
1 tbsp coriander leaves, chopped
2 basil leaves
A pinch of pepper
to taste salt
1.
Season the tofu with salt, pepper and togarashi peppers. Keep aside to rest.
Prepare the soya bean sauce:
1.
In a pan, sweat the onions, ginger, garlic and green chilli in 1 tsp of sesame oil.
2.
Add the soya beans, tamarind, crumbled jaggery, chopped kobe ginger and its liquid, light soy sauce, salt and pepper, cooking liquid from the soya beans and basil leaves.
3.
Put the ingredients into a mixer and blend into a thick luscious sauce.
Prepare the stir fried romaine lettuce:
1.
In a pan, add olive oil, ginger, green chilli, romaine lettuce, salt, pepper, soya beans with their liquid, green mango and light soy sauce.
2.
Cook these ingredients for 3-4 minutes on a medium flame.
3.
Do not over- cook the lettuce or let it discolor.
4.
Transfer into another bowl and garnish it with the torn basil leaves and coriander leaves.
5.
Lastly, pan-sear the tofu on both sides till slightly brown with a little olive oil.
6.
Serve on a plate with the soya bean sauce and stir-fried romaine lettuce.