Story Progress
Back to home
Thai Fish Cakes with Cucumber Relish Recipe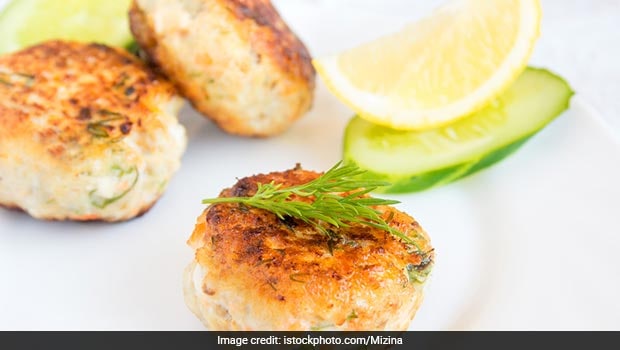 How to make Thai Fish Cakes with Cucumber Relish
Nikhil Chib wears his heart on his sleeve as he makes spicy 'Thai Fish Cakes' with a tangy cucumber relish for his better half natasha. Try this recipe for your loved ones.

Ingredients of Thai Fish Cakes with Cucumber Relish
For the fish cakes:
1 cup Fish (pounded), chopped
Handful French beans, finely chopped
3 cloves Garlic, finely chopped
2 Whole red chillies, finely chopped
1 tbsp Red curry paste
1 tsp Kaffir lime, finely chopped
1 Egg
A pinch of Sugar
Salt and pepper
To fry Oil
For the cucumber relish:
1/2 cup Rice wine vinegar
1/2 cup Sugar
1 Cucumber, finely chopped
1/4 cup Peanuts (crushed)
1/2 tsp Kaffir lime, finely chopped
1/2 tsp Fish sauce
Prepare the fish cakes:
1.
Pound the fish in a large bowl. Add some garlic to it.
2.
Throw in the beans, pound and mix togethar.
3.
Mix in the chillies now, while you continue pounding.
4.
Add the red curry paste and kaffir lime now. Mix again.
5.
In another bowl, beat an egg very delicately.
6.
Now add half of the beaten egg and mix well with a spoon.
7.
Season with salt, pepper and sugar.
8.
Check the consistency if it's too dry you can add the other half of the beaten egg.
9.
Now shape flattened round balls (like a pattie) of out this mixture.
10.
Dab some oil to keep them nice and moist.
11.
Pour some oil in a pan and fry these fish cakes.
12.
Once they turn golden brown take them out on an absorbent paper.
Prepare the cucumber relish:
1.
Heat up the vinegar and sugar in a pan.
2.
Let it boil for about 3-5 minutes. Let it some to a thickish consistency.
3.
Once done, take it off the heat and pour it over the cucumbers. Add the crushed peanuts to the same bowl.
4.
Add the kaffir lime to it.
5.
Add the fish sauce. Mix all well.
6.
Serve with the fish cakes.