Story Progress
Back to home
Tuna Rice Recipe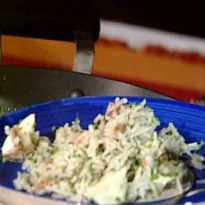 A quick recipe for a delicious but no fuss meal. Get your tuna fix by tossing rice with tuna, eggs and a handful of spices.

Ingredients of Tuna Rice
200 gm rice
100 gm butter
200 gm tin tuna fish - flaked
3 hard boiled eggs - shelled, chopped
Salt to taste
Freshly ground black pepper
A pinch of chilli powder
2-3 tbsp cream
2 tbs chopped coriander
1.
Boil rice, drain and allow it to dry slightly over a clean cloth. This keeps the grains separate.
2.
Melt the butter, stir in the fish and the chopped hard boiled eggs, season well.
3.
Add the rice and mix well.
4.
Spoon in the cream and herbs. Serve hot.